Main Media News Download Software Documentation Donate
A GNU/Linux operating system dedicated to multimedia enthusiasts
io GNU/Linux is a powerful operating system that will turn your computer into a state-of-the-art multimedia workstation. It is based on the Debian GNU/Linux distribution, built around the Enlightenment desktop environment and includes a wide range of the best open source applications suitable for audio, graphics, video production, and more... :)
A massive collection of multimedia applications
The system comes with a large collection of open source and free multimedia applications that can be used to create beautiful music, astonishing videos and manipulate graphics.
io GNU/Linux strikes a fair balance by offering the classics (Audacity, Ardour, Blender, Gimp, Avidemux, KdenLive, LiVES, OBS...) and making room for undiscovered, but powerful apps like sound visualizers, fractal generators, multi-track video editing tools with timeline, options for trimming and compositing, and, of course, plenty of audio and video filters.
> io GNU/Linux intents to be as complete as possible, intuitive and ready to go...
A nice applications menu will help you to browse and discover nice applications for all common computer uses: audio, graphics, internet, office, utilities, system, video... games :)
Out of the box Pro-Audio Linux distribution
Hyper Low-Latency Audio is needed by musicians, the Real-Time Linux kernel included let you get latency <5ms.
Boot the system, choose your default sound card (if more than one connected), that's it. The JACK Audio Connection Kit (with pulseaudio bridge) will be configured automatically and started.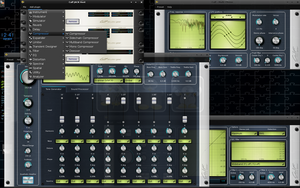 > But... what is JACK Audio Connection Kit?
"Have you ever wanted to take the audio output of one piece of software and send it to another? How about taking the output of that same program and send it to two others, then record the result in the first program? Or maybe you're a programmer who writes real-time audio and music applications and who is looking for a cross-platform API that enables not only device sharing but also inter-application audio routing, and is incredibly easy to learn and use? If so, JACK may be what you've been looking for."
Futuristic desktop environment powered by Enlightenment
The futuristic desktop environment of the io GNU/Linux distribution is powered by Enlightenment. A really clean, fast and configurable compositing window manager. The desktop features animated background, an amovible panel, some gadgets (clock, music controler) and a system monitoring widget on the left side of the screen.
> Access to the main menu and launch applications from the panel or use left or right click anywhere on the desktop. ;)
Distributed as Live DVDs (32 and 64-bit)
The target architecture of this operating system is 64-bit (x86_64), using recent Linux kernels (4.19.20 and 4.19.20-rt12). Support for the 32-bit (i686 PAE) hardware platform is also provided.
It's distributed as Live DVD ISO images of approximately 4GB in size, designed to be written to DVD discs or USB thumb drives in order to be booted from the BIOS of a PC.
Internationalization Support
You can choose between more than 60 languages at the boot menu, however, you may need to install additionals localization packages if your applications are not fully translated.
> Languages fully supported: English, French, German, Italian, Spanish.
Boot options
The boot menu of the Live DVD/USB will allow the user to start the live environment with different options:
| | |
| --- | --- |
| io Live: | Default option, run the live environment directly from the DVD/USB drive. |
| io Live to RAM: | Copy the contents of the DVD/USB to RAM and run the live environment from there, ejecting the bootable medium. |
| io Live Persistence: | Run the live environment directly from the DVD/USB drive, changes are saved on-the-fly into a dedicated partition. |
| io Live (RT): | Use Real-Time kernel for pro-audio works, run the live environment directly from the DVD/USB drive. |
| io Live Persistence (RT): | Use Real-Time kernel for pro-audio works, with persistence. ;) |
| MemoryTest: | Perform a system memory (RAM) diagnostic test. |
The graphical boot menu also allow the user to select in an easy way: Language, Keyboard and a few more options...
I want io GNU/Linux installed in my computer...
It is possible to install io GNU/Linux in your computer, the installer offers basic and advanced modes. With the basic mode you just need to select a disk for the installation (ie: you want to wipe completely Window$), the advanced mode allow the user to select existing partitions for installing the system.
Bottom line
Summing up, io GNU/Linux proves to be a truly productive operating system that uses and combines the latest Debian technologies with some of the best open source apps for multimedia production. It is part of the live.debian.net, linuxaudio.org and linuxmao.org communities.